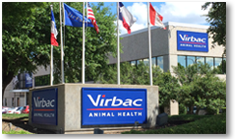 Virbac Corporation is driven by a passion for enhancing the health of companion animals.
In North America, our focus is solely on meeting the unique needs of veterinary professionals caring for dogs, cats and other companion animals. We recognize that meeting those needs starts with listening.
Ultimately, the essence of Virbac Corporation is found in our relationships with our veterinarians. It is through these relationships that, together, we can find the right answers by first asking the right questions.
"Virbac is committed to providing quality products and services to our customers through partnering with Canadian veterinarians, thus allowing us to enrich the lives of animals with novel and easy-to-use products. Virbac demonstrates high integrity through ethical business practices and contributes to the communities in which we serve." - Fiona J. McLellan, General Manager Virbac Canada Inc.